---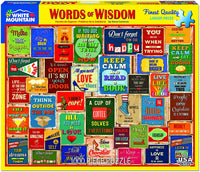 Words of Wisdom Puzzle
White Mountain Puzzles
My brain has too many tabs to open - so if it doesn't open, it's not your door! Life is what you make it so keep calm and read a book, and don't forget to be awesome. These and other pearls of wisdom are lettered on a 1,000 piece puzzle by artist Steve Cameron. You don't care? Well, think outside the box because life begins at the end of your comfort zone! 
Finished size 24" x 30".
1000-PIECE PUZZLE: Thrill and challenge your family and friends piecing together this incredible jigsaw puzzle. Bring home hours of fun and of entertainment everyone will enjoy.
ABOUT THE ARTIST: With his seemingly endless supply of ideas and creativity, Charlie Girard is one of our most popular puzzle designers and the creator of fantastic & unique collage puzzles.
MORE TO PUZZLE BUILDING: Art jigsaw puzzles are a fun, inexpensive way to enjoy works of art firsthand. Use to boost valuable motor skills, hand-eye coordination, and problem solving skills.
SPECIFICS: Includes 1,000 extra large puzzle pieces made of sturdy blue chipboard on recycled paper. Puzzle dimensions (completed): 24 x 30 inches. 100% customer satisfaction guarantee. Made in USA.