---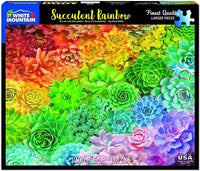 Succulent Rainbow Puzzle
White Mountain Puzzles
In botany, succulents are plants with parts that are thickened, fleshy, and engorged to retain water in arid climates or soil conditions. This beautiful painting by artist Cora Niele displays a range of succulents such as houseleek and various echeveria in a cool rainbow of colors - pinks, blues, greens and corals. 
Finished size 24" x 30".
1000-PIECE PUZZLE: Thrill and challenge your family and friends piecing together this incredible jigsaw puzzle. Bring home hours of fun and of entertainment everyone will enjoy.
ABOUT THE ARTIST: With his seemingly endless supply of ideas and creativity, Charlie Girard is one of our most popular puzzle designers and the creator of fantastic & unique collage puzzles.
MORE TO PUZZLE BUILDING: Art jigsaw puzzles are a fun, inexpensive way to enjoy works of art firsthand. Use to boost valuable motor skills, hand-eye coordination, and problem solving skills.
SPECIFICS: Includes 1,000 extra large puzzle pieces made of sturdy blue chipboard on recycled paper. Puzzle dimensions (completed): 24 x 30 inches. 100% customer satisfaction guarantee. Made in USA.